Art Meets Functionality: Kelly Anna's Stroller Trike Designs

By

Davor Štefanović
Updated May 3, 2023.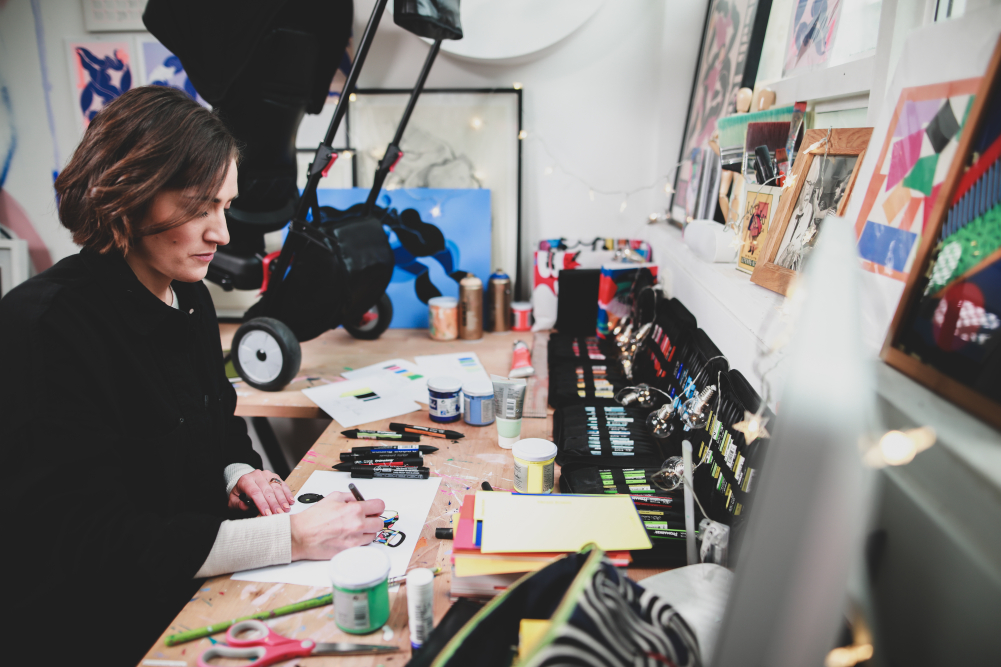 At smarTrike, our mission has always been to create fun and smart products that inspire confidence and encourage physical activity in children throughout their childhood while making parents' lives easier. We believe in giving our young riders the best possible start in life by providing them with engaging and visually stimulating experiences. We're excited to share the story of our collaboration with the talented Kelly Anna in designing the eye-catching STR7 Stroller Trike.
The Birth of the Stroller Trike
About 17 years ago, smarTrike invented the STR, revolutionizing the concept of a Stroller Trike by seamlessly combining a traditional stroller and an independent kid's tricycle. Our innovative technologies allow children to enjoy the benefits of triking from the youngest age possible, whether it's steering, pedaling, or even problem-solving, as soon as they can sit upright.
The Importance of Visual Stimulation
Understanding the significance of visual stimulation in early development, we sought the perfect partner to help us design the visually appealing and engaging STR7 Stroller Trike. We were thrilled to find Kelly Anna, an accomplished artist, mother, and designer based in East London, known for her work with international brands across various sectors, including products, murals, clothing, and footwear.
The Personal Touch: Kelly Anna's Journey as a Mother
Kelly Anna's enthusiasm for the collaboration resonated with her personal experience as a mother. She appreciated how smarTrike enabled her son to develop confidence and motor skills, fostering his curiosity and learning. "When smarTrike reached out to me, I was really excited because my son had just turned one. I took him around the park for the first time, and I just couldn't believe that he felt like he was in control. I was guiding him, but he was creating that confidence for himself. He was curious, learning motor skills, all of these different things. And as a mother, that's just what I want to do. And I feel like this product helped me do that."
The STR7 Designs by Kelly Anna
Kelly Anna's two STR7 designs beautifully encapsulate the story of early development in young children.
Explore
The "Explore" design features a black-and-white colour palette with subtle hints of purple, representing the early stages of visual processing in children. By around five months of age, a child's eyes can start forming three-dimensional images, enabling them to take in their surroundings more analytically and accurately. The "Explore" design celebrates this newfound ability, encouraging young riders to observe everything they can lay their eyes on.
Imagine
As children develop their visual processing abilities, they begin to connect their observations with their personalities, igniting their imagination. Kelly Anna's "Imagine" design brings this stage to life through vibrant colours and three-dimensional abstract shapes, symbolizing the boundless potential of a child's creative mind.
A Shared Vision
Kelly Anna's vision for her designs is for parents to feel excitement and enthusiasm while venturing out with their children to explore the world. She wants them to know that her creations carry a story and values that can be imparted to their children, promoting a lifelong love of learning and discovery.
Inspiration in Motion
Our collaboration with Kelly Anna exemplifies smarTrike's commitment to nurturing young minds by offering visually engaging and stimulating experiences alongside physical activity. Together, we strive to create a brighter future for our children, one exciting ride at a time.