SmarTrike STR5 vs QPlay Nova: Which Pushchair is Better?

By

Jaya Narinesingh

Edited by

Milica Pešić
Updated September 1, 2023.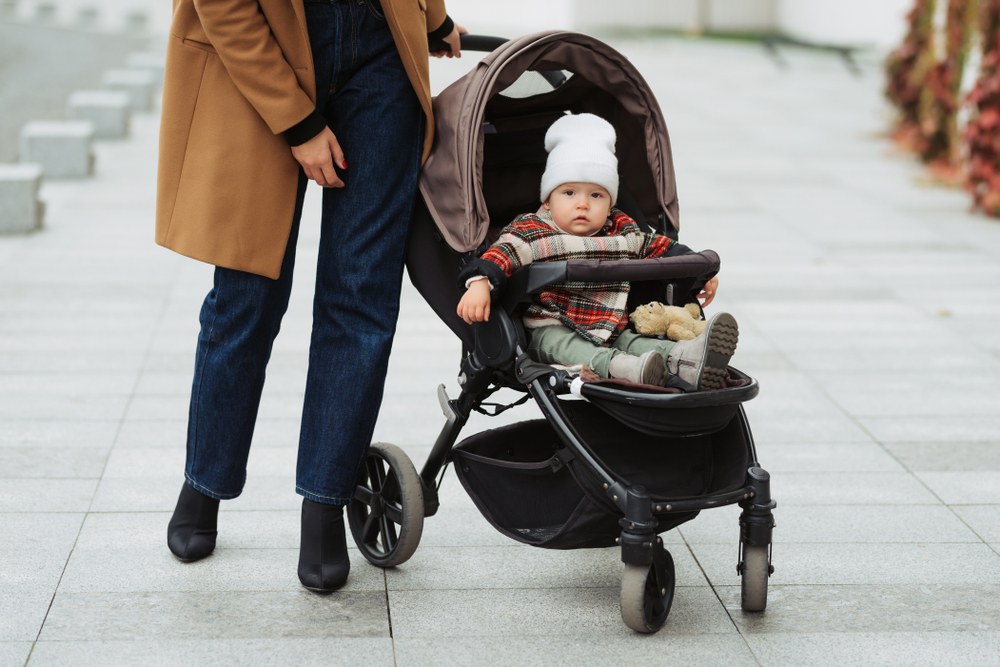 Are you pondering whether your toddler is ready to graduate from their pram to something a bit more adventurous? You're not alone; I've been through this with my own two children. The decision to choose the right trike can be quite daunting, given the plethora of features and functionalities on offer. According to a Harvard study, the health advantages of trike riding are numerous. It not only encourages children to stay active but also significantly boosts their overall well-being.
Selecting the right trike is a decision that requires careful consideration. You'll find numerous blog posts discussing various types of stroller trikes and their benefits, but this particular blog aims to compare two similar models to guide you towards the best choice for your family.
SmarTrike STR5 vs QPlay Nova at a Glance
|  | SmarTrike STR5 | QPlay Nova |
| --- | --- | --- |
| Safety | 5-Point Harness and parent-controlled braking | 5-Point harness and parent-controlled braking |
| Adjustability and Grow-With-Me | From 9-36+ months, transitions from safe strolling to independent riding, with compact folding. | Adapts from 6-36+ months, includes rear-facing, independent ride stages, folds compactly |
| Quality and Durability | Built with premium materials, durable wheels | Crafted from durable materials, versatile across terrains |
| Comfort | Ultimate comfort for your child with features like easy one-hand steering, built-in shock absorbers, a high backrest, cushioned harness, integrated footrest, adjustable reclining options, generous sunshade | Ergonomic handle grip, elevated back support, built-in footrest, obstacle-resistant shock absorbers, adjustable recline settings, protective canopy |
| Assembly and Portability | Easy fold/unfold mechanism, quick-click attachments | Easy fold/unfold mechanism, quick-click attachments |
| Terrain and Use | Suitable for all types of ground conditions | Large wheels for effortless navigation across various terrains |
| Price | Priced at £149.99 when purchased directly from the SmarTrike website | Price on Amazon: €202.83 (VAT included, may vary based on delivery address) |
SmarTrike STR5
The SmarTrike 6-in-1 STR5 stroller trike is a game-changer for parents seeking a blend of convenience, safety, and long-term utility. Designed for babies as young as 9 months, this trike is more than just a stroller; it's an investment in your child's early years. With patented one-handed steering technology and state-of-the-art shock absorbers, the smart trike STR5 ensures a smooth and comfortable ride across various terrains and weather conditions.
As a parent, safety is always a top priority when choosing the best stroller for your baby's development, and the STR5 doesn't disappoint. It's the only stroller-certified stroller-trike on the market, featuring a 5-point harness, safety bar, and an advanced braking system. Your child will be having so much fun that they won't even realise how secure they are.
The 6-in-1 STR5 stroller trike is not just a smart financial investment; it's also an investment in your child's physical and cognitive development. This means you won't need to invest in another stroller or trike for years to come.
Pros
Designed to last for years

One-handed touch steering technology

The braking system on both the handle and rear.

User-Friendly assembly

Space-Saving

Adaptability: Six adjustable stages.

5-point harness and safety bar.

High-back seat ensures a comfortable ride.

Stylish design
Cons
Not suitable for infants younger than 9 months.

The seat is only front-facing
QPlay Nova
The 3-in-1 QPlay Nova trike is a versatile and convenient option for parents looking for a long-term investment in their child's outdoor activities. Designed to be used from 10 months up to 72 months, this folding tricycle offers a wide range of features that make it stand out.
The aluminium frame and push bar not only make the trike lightweight but also offer excellent corrosion resistance, ensuring durability. The air-filled/EVA tires and free-handlebar function add to the trike's adaptability and ease of use.
Pros
Compact and portable

Lightweight design

Seat Flexibility: 360-degree swivel seat.

Effective shock absorption.

Usable from 6 months to 5 years.
Cons
Limited accessories

Stage limitation
SmarTrike STR5 vs QPlay Nova: Safety Features
SmarTrike STR5 Safety Features
When it comes to the safety of your little ones, SmarTrike STR5 has gone the extra mile. The trike features a shock-absorbing mechanism in its wheels, dual control modes for both parent and child, a 5-point harness, and a safety bar. These elements work together to ensure a smooth and secure riding experience for your child.
QPlay Nova Safety Features
Similarly, QPlay Nova has not compromised on safety. The trike comes equipped with air-filled/EVA tires for added stability, an extendable canopy with UV protection, a 5-point harness, and a safety bar. These features are thoughtfully designed to offer both comfort and safety during rides.
Winner: Both the SmarTrike STR5 and QPlay Nova
» Ensure safe and healthy development by teaching them to pedal
SmarTrike STR5 vs QPlay Nova: Adjustability
SmarTrike STR5 Adaptability Features
The SmarTrike STR5 stands out for its 6-in-1 modular design that grows with your child. It offers various stages, starting from safe strolling and progressing to independent triking. This adaptability ensures that the trike remains useful and relevant as your child grows, providing long-term value.
QPlay Nova Adaptability Features
QPlay Nova also offers a range of adaptable features, starting from 6+ months. It includes an adjustable and reclining backrest, a push bar, and a rear foot brake. The trike also features a 360-degree swivel seat and a parent-control cycling mode, eventually transitioning to an independent self-ride stage.
Winner: SmarTrike STR5
SmarTrike STR5 vs QPlay Nova: Assembly & Portability
SmarTrike STR5 Assembly Features
The SmarTrike STR5 excels in the assembly department with its tool-free setup. A downloadable manual is available on their website, making the process even more straightforward. The trike also features a quick folding and unfolding mechanism, although users should exercise caution as it unfolds rapidly.
QPlay Nova Assembly Features
The QPlay Nova Niello foldable trike also comes with a compact folding design but falls short when it comes to assembly. Unlike the STR5, the QPlay Nova requires some assembly, and the absence of a manual on their website could make this a challenging task for some users.
Winner: SmarTrike STR5
SmarTrike STR5 vs QPlay Nova: Terrain & Use
SmarTrike STR5 Terrain & Use Features
The SmarTrike STR5 is designed to tackle a variety of terrains with its large tires and built-in shock absorbers. While it excels in providing a smooth ride on rough surfaces like gravel, it's important to note that steering may require extra effort on particularly challenging terrains.
QPlay Nova Terrain & Use Features
The QPlay Nova also offers adaptability across different terrains, featuring a free-wheel function that allows for pedal locking. This gives parents the flexibility to control the trike until their child is ready to pedal. Additionally, the Nova comes equipped with its own shock-absorbing system, ensuring a comfortable ride on uneven surfaces.
Winner: Both the SmarTrike STR5 and QPlay Nova
SmarTrike STR5 vs QPlay Nova: Price
SmarTrike STR5 Price
The SmarTrike STR5 goes above and beyond when it comes to customer assurance, offering a 2-year warranty, a 30-day return policy, and a money-back guarantee. For those who prefer to spread out payments, financing options are also available, adding an extra layer of convenience.
QPlay Nova Price
The QPlay Nova provides a 1-year warranty and a 30-day return policy when purchased through Amazon. However, it's worth noting that the pricing can vary depending on the vendor, and no financing options are explicitly mentioned on their website.
Winner: SmarTrike STR5
Making the Right Trike Choice for Your Child's Development
It's been a neck-and-neck competition between the SmarTrike STR5 and the QPlay Nova, with both brands excelling in various categories. While both the SmarTrike STR5 and QPlay Nova are great in safety and adaptability, the 6-in-1 STR5 Folding Stroller Trike pulls ahead in key areas like assembly ease, warranty, and overall value. Its tool-free assembly and clear, downloadable manual make it user-friendly, especially as your child grows and the trike needs adjustments.
Investing in a stroller trike is a significant financial decision, and the STR5 ensures you get the most value for your money. Its 6-in-1 design adapts to your child's needs over time, and the 2-year warranty and financing options add extra peace of mind.