Get Your Toddler Pedalling: 3 Tips and Techniques for New Parents

By

Ruchita Dhavade

Edited by

Davor Štefanović
Updated April 13, 2023.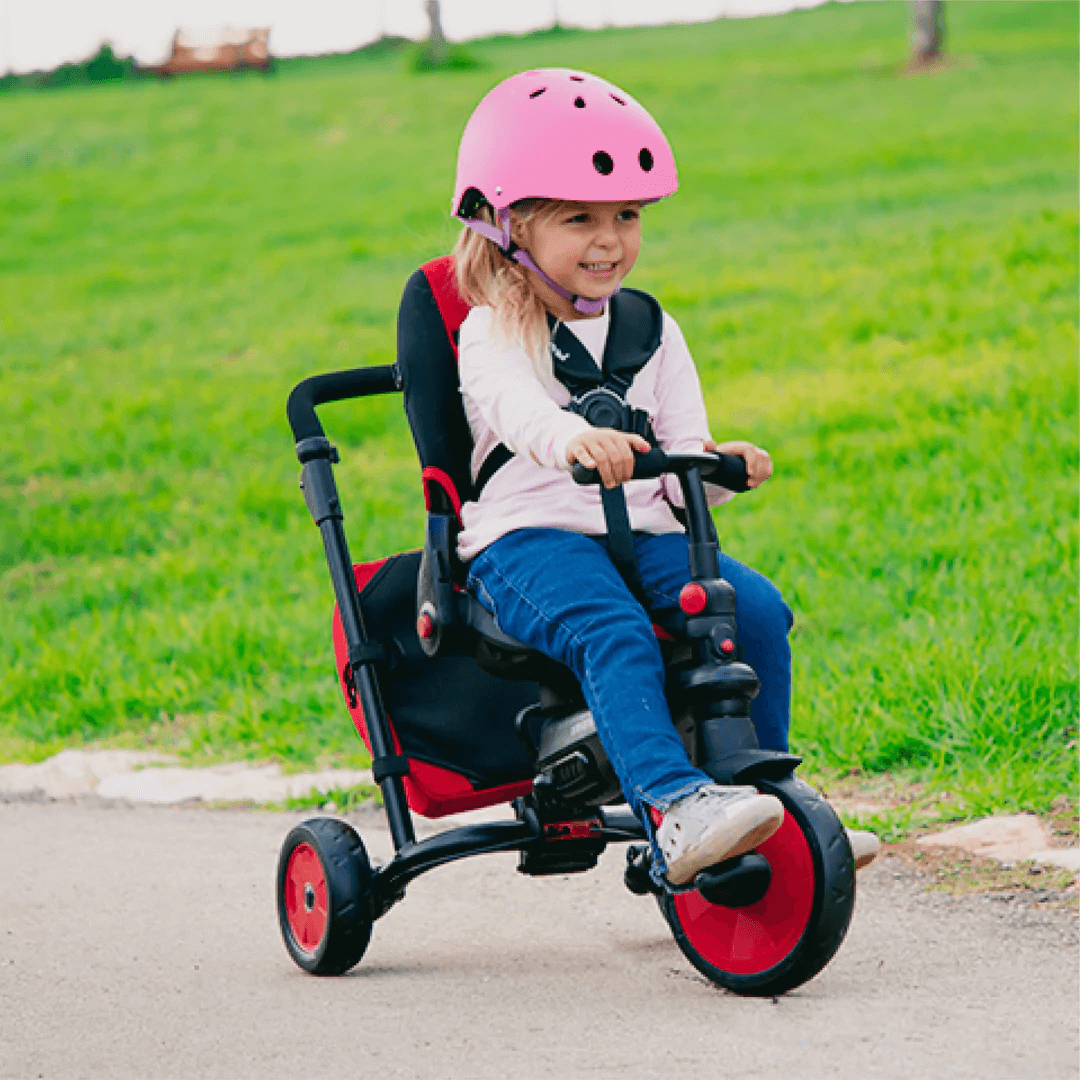 Do you want your toddler to join in on the fun of cycling with family and friends? Teaching your little one to pedal can be a challenging yet rewarding experience. Still, your kid might be new at it and still unsure of themselves. It's important to remember that each child develops at their own pace, and some may be ready to learn earlier, while others may need more time. Regardless of their individual pace, there are several techniques and tools that you can use to help your child learn to pedal. One such tool is a stroller trike, which can be a fun way for your toddler to develop balance and motor skills and get comfortable with a vehicle that prepares them for riding a bike in the future.
In this guide, we show new parents how to teach a child to pedal using three tips and techniques so that their children can enjoy the fun of cycling.
1. Teach Your Toddler to Balance
Starting out with biking can be an exciting time for both parents and children. However, before jumping into pedalling, it's important to focus on balancing first. Stroller trikes can be a great tool to support your child in learning balance while giving you the ability to push them along. Balancing while moving along is an essential skill your child needs to learn before mastering pedalling. To keep your child safe and learning properly, ensure they're is sitting in the correct position, with hands on the handlebars and feet on the pedals.
2. Introduce the Action of Pedaling
Before letting your child try pedalling independently, it's helpful to demonstrate how it works. You can do this by putting your hands or feet on the pedals and rotating them, showing your child how the wheels move. Then, let the wheels move freely while your child sits on the bike seat to get a feel for the movement. Once your child seems comfortable with the motion, encourage them to put their hands on the pedals and try it out for themselves.
You can also practice pedaling with your child by following these steps:
Sit across from your child and ask them to place each foot in your palms.

Gently imitate the pedaling movement with your hands.

Once your child has observed the movement, encourage them to try and 'pedal' alone while keeping their hands on their feet for support and balance.
Once your child has mastered the pedalling motion, it's time to have them try it out on a stroller trike. To help them get started, you can assist by placing gentle pressure on one knee or foot into one pedal or by slowly nudging the stroller trike forward. This helps your child understand how pedalling moves the trike forward and builds their confidence as they begin to pedal on their own.
3. Practice on a Smooth Surface
Contrary to popular belief, starting with the bike on grass or a soft surface is not ideal for preventing injury. These surfaces create resistance and make the riding experience difficult for the child. In fact, it's much better to choose a smooth, flat, and safe surface for your child to ride on, such as a local park or play area. If your toddler is not yet ready to pedal on their own, try pushing the stroller trike, which can help improve their balance and confidence. As your child gains more confidence, stand in front of them and encourage them to look at you instead of the ground. This will not only help them pedal in a straight line but also improve their overall pedalling technique.
Explore SmarTrike Products to Support Your Toddler's Learning and Development
When it comes to supporting your toddler's learning, development, and activity, few things are as helpful as a good stroller trike. SmarTrike offers a range of high-quality stroller trikes that are safe and support an active lifestyle from an early age.
One of their most popular products is the SmarTrike x Kelly Anna Stroller Trike, designed to provide physical engagement and visual stimulus for children between six months and three years old. In addition to these features, the trike includes a multi-position reclining seat, a parent-facing seat option, and an adjustable canopy. Another popular product from SmarTrike is the STR5 Folding Pushchair Trike, suitable for babies from nine months old. This trike is designed to support your baby's development and movement, with features like a 5-point harness, a padded seat, and adjustable footrests. With the STR5 Folding Pushchair Trike, your baby will be able to safely explore the world around them while developing essential skills and abilities.